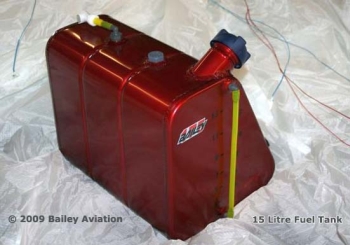 15 litre fuel tank soon legal to use in the UK !
For some time now we have been producing a 15 litre fuel tank for 'Overseas' regions only. The CAA has recently agreed to remove the 10 litre fuel limit specified for paramotors, when the Air Navigation Order (ANO) is next re-printed, which is most likely to be in Autumn 2009.

It is recommended in the meantime that any pilot using a tank with a greater capacity than 10 litres only fills the tanks to the 10 litre mark and no more. This means that all UK pilots can upgrade to our 15 litre tank and when the ANO is re-printed get an amazing 6+ hours range from a single fuel load.
All Bailey Aviation fuel tanks are constructed from Aircraft grade alloy (anodised red), fully TIG welded for extra strength and feature a high quality scew-on cap with internal pressure release, quick-release dry break fuel coupling and an external tube-type sight gauge with incremental markings.
10 litre fuel tanks have a RRP of £200 incl VAT and the 15 litre fuel tank is £220 incl VAT