The V5 is the fifth generation of the world championship-winning Bailey Aviation 4-stroke engine, offering smooth, progressive power with low noise levels and superior fuel consumption. The culmination of 10 years producing engines, the V5 is our lightest and most compact design, offering effortless pull starting and a wide power band from idle to maximum RPM.
The engine is available as a manual (pull) start, known as the V5 or an electric start, known as V5E. The V5E comes with 80W engine generator and voltage regulator/rectifier.
The Bailey V5 engine is a lightweight single cylinder 4-stroke engine with the unique 'Bailey Easy Start System' (BESS). This System enables the high compression V5 to be easily pull started by releasing 80% of the compression during cranking. Once started the system automatically disengages.
The V5 features a 2-piece CNC machined cast alloy crankcase, has a capacity of 195cc with two valves operated by a chain driven overhead camshaft. The oil system is fully pressurised with a pressure relief valve thus maintaining constant oil pressure regardless of the oil temperature or RPM.
The cylinder bore features a special coating for increased wear resistance and the crankshaft design features oversize bearings and an internal needle-roller bearing.
The crankshaft runs on two main bearings with a third bearing to accommodate drive belt loads. The integral prop speed reduction unit (PSRU) is driven via a Poly-V belt with eccentric belt tension adjustment.
Ignition is CDI (capacitive discharge) with integrated variable advance curve.
Carburation is by float type carburettor (CVK26) with a K&N air filter with rubber mounted anti-vibration bracket, fitted to any alloy inlet manifold.
Engine cooling is taken care of by our forced air cooling system, using a crankshaft mounted fan, ducted around the cylinder and head by our all-new injection moulded engine cowling, which also neatly houses the pulse fuel pump. The ignition CDI unit is also directly mounted to the engine on a custom bracket, making for an incredibly neat installation.
The engine has a 3 stage oil filtering system, with a replaceable oil filter that is easy accessible and a glass oil level window so you can easily check the oil level.
The exhaust silencer and downpipe are made from 304 Stainless steel for longevity, with a chrome plated engine-mounted mild steel exhaust bracket which houses our heavy duty sprung exhaust mounting clamps to allow for thermal expansion/contraction of the exhaust under all engine temperatures.

Every V5 engine is fully tested on our in-house test rig prior to being signed off for customer release.
Manufacturer
Bailey Aviation, United Kingdom
Type
Single Cylinder 4 stroke, force air cooled, 2 valve per cylinder, cast alloy
Displacement
195cc
Bore/Stroke
65x59mm
Crankshaft
3 Bearing roller
Piston
Forged alloy, 3 ring
Oil System
Wet sump with pressure pump and 3 way oil filtration and pressure relief valve
Fuel System
CVK float bowl carburettor with pulse pump
PRSU/Reduction
3.19:1 reduction with poly-V drive
Prop Mounting
6 x 75mm PCD M8 studs or BQRP single bolt + 'R' Clip
Exhaust
Stainless steel
Starter
Manual pull start with rope rewind (recoil)
Ignition System
Variable advance CDI
Oil Capacity
500cc
Oil type
Fully synthetic 10w40 or 10w60 4 stroke motorcycle oil
(Putoline Off Road Nanotech 4+ 10w60 recommended) [Spec - JASO - MA2 - API - SL]
Mountings
4 x M8 bonded rubber 'Silent blocs'
Spark Plug Type
NGK CH7SA (or equivalent)
Spark Plug Gap
0.60mm (0.24")
Air Filter
K&N R-1070
Oil Filter
Pleated paper (order from Bailey Aviation)
Drive belt tension
5-8mm Deflection at mid span point with 10Kg force
Valve Clerances
0.10mm (0.004") for inlet and exhaust valves
Fuel Type
95-99 (Ron) Octane unleaded fuel, AVGAS not recommended
Engine Weight
15.8Kg (manual start)
V5E Engine Specification
(in addition to above)
| | |
| --- | --- |
| Starter Motor Type | Pre-engaged |
| Battery Recommendation | 12v 5ah minimum |
| Engine Generator | 80W |
| Engine Weight | 17.0Kg |
| | |
| --- | --- |
| | V5 & V5E Engine Performance & Limitations |
| | |
| --- | --- |
| Power Ouput | 20.5hp @ 8200RPM |
| Thrust Output | >60Kg when used with recommended Helix 1.30m propeller |
| Max Power RPM | Limited to 5 minutes |
| Max Continuous RPM | 7500RPM |
| Oil Temp | Max 180ºC Min 50ºC |
| Cyl Head Temp | Max 220ºC Min 50ºC |
Please find below schematics of the V5 engine, all dimensions are in mm.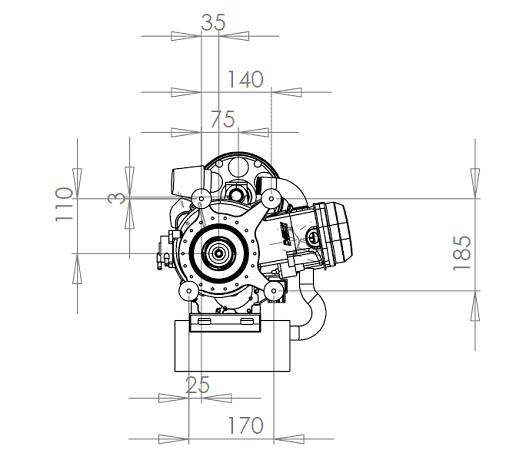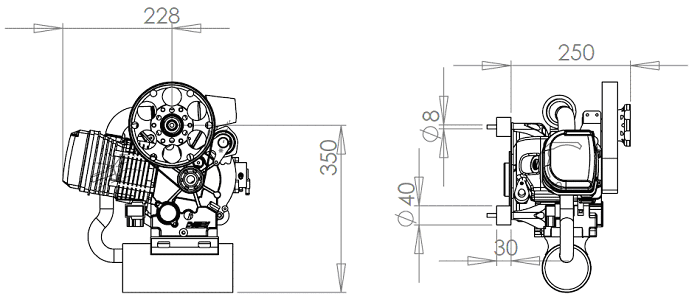 Intended applications for the Bailey V5 and V5E engines are:
Paramotors
Paratrikes
Single Seat hangglider trikes
Motorgliding
Small single seat de-regulated aircraft (UK SSDR)
U.A.V's (un-manned aerial vehicles)
Hovercraft
Pictures shown of V5 manual start engine
Mouse over pictures to enlarge
All Bailey Aviation V5 engines are supplied ready to run, fully tested on our in-house dynometer, complete with the following:-
Exhaust system, Carburettor, Air filter, Wiring loom, CDI Ignition, Fuel Pump with Tygon fuel line, T-piece and pulse drain hose.

V5 (Manual start only) - £3285 incl 20.0% UK VAT
V5E (Electric start only) - £3485 incl 20.0% UK VAT
(Please note the V5E engine also comes with:- starter motor, starter solenoid and voltage regulator.)

Extra cost options:-
Quick release propeller mounting system option £47.50
Manual back-up start for V5E electric start machines £77.50

Please enquire with our sales office on telephone no. 01763 246660 for full pricing details.