Overview
The V5 design brief was to make a technically competent machine that is also aesthetically pleasing and easily transportable.
The Bailey V5 paramotor is designed, manufactured and assembled in house to exacting standards. The alloy cage and engine chassis are made from drawn aviation specification aluminium tube of various gauges giving maximum structural stiffness without adding excess weight. All tubes are precision TIG welded using filler rod of the same material to insure uniform strength and quality of finish. In the event of a very heavy landing or fall the cage is designed to deform & absorb impact, protecting the pilot and the main chassis. This 'No compromise' design has high structural rigidity in key stressed areas and is designed to be dismantled quickly & easily, leaving the chassis/engine to remain free standing when disassembled.


Active Chassis Construction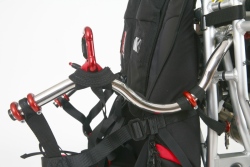 The chassis is quite different to our previous designs and has integral pick-up points for the all new Active hang bars.
The Active hang bars are a unique design, made from mirror polished 316 stainless steel, and are fixed to the chassis pivot points with red alloy fastening nuts and a quick release 'R' Clip.

It is widely understood that the optimum pivot point location for moving hang bars on a paramotor is on the same horizontal plane as the thrust line and vertically in line with the chassis/engine Centre of gravity (C of G). On most designs this ideal location has obstructions which prevent optimum placement.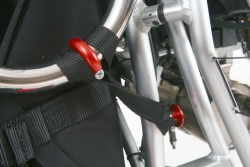 This pivot placement was one of the key design briefs when we were planning the V5 engine and chassis layout. The result is a pivot point that is as close as possible to the ideal position, rearward of the harness plane and in line horizontally with the prop centre, extensive flight testing by many different size/weight pilots has proved that the system not only remains vertically stable with large or small power changes but also exhibits virtually zero torque.
It has been demonstrated that with zero brake input and full power (>60kg static) a left turn (opposite to torque) can be made with weight shift only, the machine can be made to maintain heading with weight shift input only, from idle all the way to full power.


Weight shift steering ability is further enhanced by the pivot geometry of the hang bars, when viewed from the front the bar follows a downward and inward path, this exaggerates the weight transfer onto the down going riser in the direction of turn by its inward movement. . A static amount of riser offset is built into the bars also so at a cruse power setting the bars (and therefore the seat) can remain level.
The upper stop for the hang bars consists of a fabric strap which as well as minimising the force on the chassis to resist upward movement is adjustable enabling the upper bar position to be set with a sliding clamp collar, this strap also acts as a backup in the event of a pivot failure. Similar clamp collars locate the hang loop and harness main support, both are infinitely adjustable to suit different pilot weights. Utilising these clamps has the added benefit of rendering the whole hang system 'shackle less'. The whole mechanical hang assembly is backed up by an additional safety strap that connects to the main seat riser strap on the harness, designed to minimise pitch/lateral imbalance should it ever become operational in the event of a hang loop failure.
Cage Construction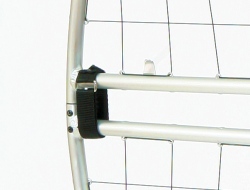 The V5 safety cage is a single hoop, 4 piece split design that is clear anodised for added durability and incorporates alloy inserts to prevent any unwanted movement. Each quarter features integral line fastening loops and have our own specification, black nylon cage safety line woven through them.
Our unique fastening clamp/webbing strap/roller pulley locates the pull starter handle conveniently just behind the pilots head and both left and right top quarters feature a convenient throttle handle hook.
The cage quarters are secured with strong Velcro fasteners allowing quick assembly/disassembly with complete peace of mind and ultimate portability.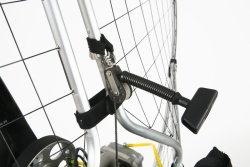 All Bailey V5 paramotors are supplied with a bespoke padded cage quarter bag and propeller covers.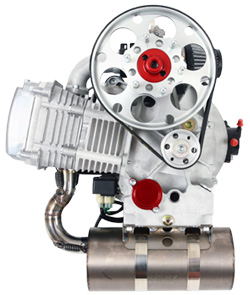 The V5 is the fifth generation of the world championship-winning Bailey Aviation 4-stroke engine, offering smooth, progressive power with low noise levels and superior fuel consumption. The culmination of 10 years producing engines, the V5 is our lightest and most compact design, offering effortless pull starting and a wide power band from idle to maximum RPM.

The Bailey V5 engine is a lightweight single cylinder 4-stroke engine with the unique 'Bailey Easy Start System' (BESS). This System enables the high compression V5 to be easily pull started by releasing 80% of the compression during cranking. Once started the system automatically disengages.
The V5 features a 2-piece CNC machined cast alloy crankcase, has a capacity of 195cc with two valves operated by a chain driven overhead camshaft. The oil system is fully pressurised with a pressure relief valve thus maintaining constant oil pressure regardless of the oil temperature or RPM.
The cylinder bore features a special coating for increased wear resistance and the crankshaft design features oversize bearings and an internal needle-roller bearing.
The crankshaft runs on two main bearings with a third bearing to accommodate drive belt loads. The integral prop speed reduction unit (PSRU) is driven via a Poly-V belt with eccentric belt tension adjustment.
Ignition is CDI (capacitive discharge) with integrated variable advance curve.
Carburation is by float type carburettor (CVK26) with a K&N air filter with rubber mounted anti-vibration bracket, fitted to any alloy inlet manifold.
Engine cooling is taken care of by our forced air cooling system, using a crankshaft mounted fan, ducted around the cylinder and head by our all-new injection moulded engine cowling, which also neatly houses the pulse fuel pump. The ignition CDI unit is also directly mounted to the engine on a custom bracket, making for an incredibly neat installation.
The engine has a 3 stage oil filtering system, with a replaceable oil filter that is easy accessible and a glass oil level window so you can easily check the oil level.
The exhaust silencer and downpipe are made from 304 Stainless steel for longevity, with a chrome plated engine-mounted mild steel exhaust bracket which houses our heavy duty sprung exhaust mounting clamps to allow for thermal expansion/contraction of the exhaust under all engine temperatures.
Every V5 engine is fully tested on our in-house test rig prior to being signed off for customer release.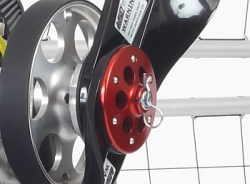 We exclusively use the superb carbon-composite propellers made to our design by Helix Carbon GmbH in Germany. These top quality propellers are a 2 piece 1.30m, 2 blade design that slide together to produce an ultra-strong and lightweight set-up that can be easily stowed in the their supplied Bailey Aviation covers.

There are two different propeller mounting systems offered. The standard set-up has a six point fixing, featuring M8 studs that the propeller fits over, sandwiched either side by neoprene gaskets, with a red anodised clamp plate that fits on last and then secured with anti-vibration Nyloc nuts.
The optional mounting method is the Bailey Quick Release Propshaft (BQRP), which utilizes six 8mm dowel pins instead of threaded studs, so the propeller fits over the six dowel pins, again sandwiched by neoprene gaskets and then the quick release plate fits on last and a single bolt fixing secured with an 'R' clip enables fast and easy propeller removal and more evenly distributed clamping pressure. The Bailey Quick Release Propshaft (BQRP) is a very popular option and is supplied with its own bespoke prop bolt fastening spanner.
The V5 uses a new bespoke harness designed in collaboration between Bailey Aviation and Sup'Air of France.
This lightweight harness is rigid but comfortable and has lots of useful features, such as: Double lock Sup'Air caribiners, in flight accessible 6x9" pockets, quick release buckles, speed bar pulleys, adjustable leg support, secondary safety hang straps, rucksack type ground hang system and padded shoulder straps. The harness also has integral reserve bridle routing underneath Velcro padding – Perfect for fitting a Sup'Air reserve.

The harness is fitted to the chasiss with stainless steel quick release securing pins at the top and webbing loop straps that fit over red anodised bosses at the bottom. Our harnesses are also fitted with a clear plastic window on the left hand shoulder strap, designed to accept the optional PET2000DXR tachometer/hourmeter.

The harness has plenty of adjustment range and is available in either medium or large sizes. We find that most pilots are suited to the medium harness, but it may be necessary to use the large harness if you are over 6' 3" or 100Kg.

The V5 comes as standard with our new 11.5 litre plastic fuel tank, with site level gauge/scale and two quick release dry-break fuel couplings.

The new plastic tank is lighter than our previous alloy versions, fuel level can be easily seen and for the competition minded is is also mounted higher on the chassis and provides a clear air flow path under the seat and onto the prop arc. Overal CofG is also higher giving a lighter feel to the machine.

The new plastic tank is a quick release design that comes with a shoulder strap for those long walks to find fuel on bivouac trips.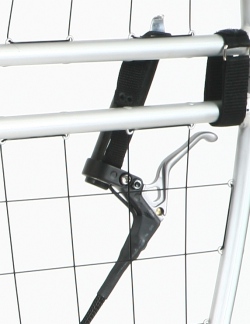 The V5 throttle has a lightweight alloy core, with black silicone anti-slip handgrip and ergonomically designed alloy lever with an integral adjustable webbing strap. The throttle cable itself is housed in a hard wearing textile braided covering that is heat shrunk to keep it fully sealed. A recessed high quality stop button is fitted to all V5 models. The throttle itself can be adapted from right to left handed use with no tools required in a matter of seconds.
Technical information for Bailey V5 paramotor, manual start, 1.30m propeller.
| | | | |
| --- | --- | --- | --- |
| | | | |
| Engine Manufacturer | | Bailey Aviation (UK) | |
| Engine Type | | 195cc SOHC 4 Stroke | |
| Power Output | | 20.5hp @ 8000RPM | |
| Static Thrust (see Note 1) | | > 60Kg | |
| Engine Weight | | 15.8Kg | |
| Paramotor Dry Weight | | 27.5Kg | |
| Fuel Consumption (see Note 2) | | 2.1-3.0 Litres/hour | |
| Range | | 3.75-5.0 Hours | |
| Fuel Tank Capacity | | 11.5 Litres | |
| Noise Level (see note 3) | | 60db | |
| | | | |
| | | | |
Notes
1. Static thrust figures are measured on our own calibrated test rig and are averages across a variety of differene atmospheric conditions (temperature, pressure, humidity)
2. Fuel consumption figures are based on an 85Kg pilot with Ozone Speedster 24, wing on fast trim.
3. Noise level is measured to DULV (German regulating authority) standards, range 100 metres overhead, paramotor at wide open throttle.
V5 (Manual Start Only) Paramotor - 1.30m propeller, all alloy construction £5600.00 incl VAT
Options:-
Quick Release propeller System £47.50 incl VAT

All prices include 20% UK VAT.


Mouse over pictures to enlarge